ATHENS — The drama and anticipation were soon replaced with humor Monday when Nathan Tucker and Ash Moorer, founders of Rocket City Electric Bike Rentals, won the Singing River Trail Launch Tank pitch competition.
The Singing River Trail Launch Tank is a "Shark Tank" style competition without the actual sharks, to help entrepreneurs start or grow a small business. The second annual event was held at Athens State University.
Eight contenders won cash prizes for their creative presentations, but Tucker and Moorer won the $5,000 first-place prize. The duo's opening skit proved to be the best pitch for their electric bike rentals business.
It began with a young whipper-snapper eager to keep pedaling his traditional bike another 20 miles while his gray-haired dad, worn to a frazzle, collapsed on stage.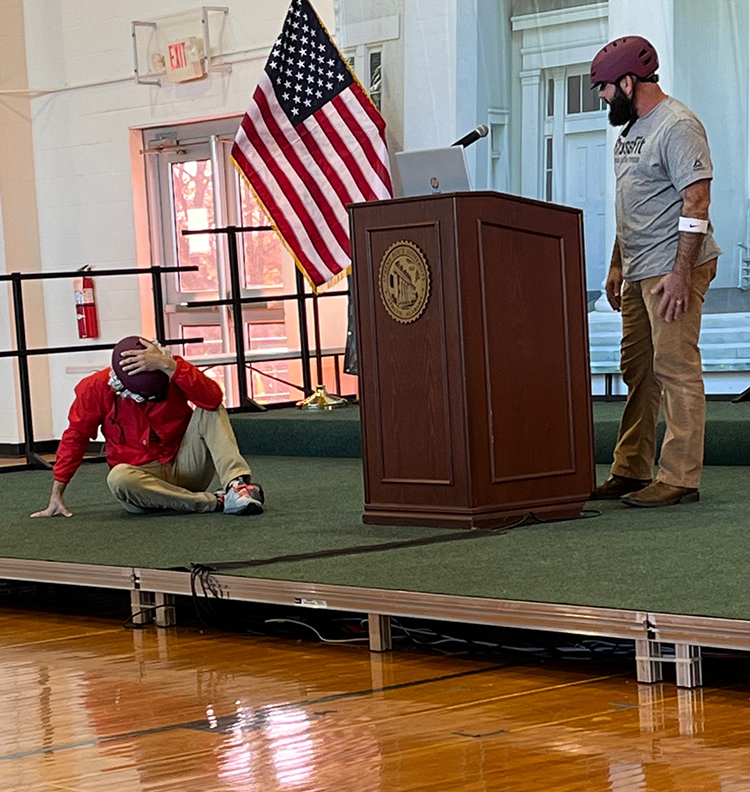 The message: Electric bicycles from Rocket City Electric Bike Rentals will ease the pain for the less vigorous adventurer who still likes to get out and have fun but doesn't have the stamina they used to have.
"We put a lot of stock into this competition and took it (the presentation) very seriously and definitely practiced the presentation a lot," Tucker and Moorer said after the ceremony. "It was very nerve wracking, and we were just trying not to pass out or cry," they said with a laugh.
SRT Executive Director John Kvach summed up the annual competition.
"When John Allen and Joe Campbell hired me to become executive director of the Singing River Trail … they hired me to build a trail," Kvach said. "I reminded them they hired a historian to build a trail.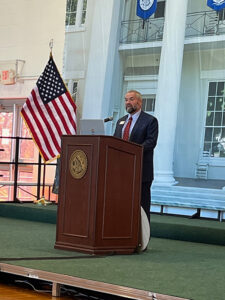 "I have always said, 'Find yourself on the Singing River Trail' and today you are seeing people following their passion. The vibe that is going out today is, 'Here is how I am making my spot on the trail a better place'."
The final eight entrepreneurs were chosen out of 45 original submissions in January.
All the business endeavors are young, start-up companies with businesses that have the potential to grow along the 220-mile Singing River Trail through North Alabama.
Taking second place was Jonathan Fowler of Fow Wow Designs who won $4,000 for his wacky T-shirt designs.
Zenovia Stephens with Black Kids Adventures was third and took home $3,000 for establishing a community where black and brown kids can get more involved in nature and outdoor activities.
The fourth-place finisher was Chris Soileau with River Elf who won $2,500 for his replacing plastics with composite materials to build kayaks.
Mimi Little of Be Gathered Rentals took fifth place and won $2,000 for her elegant vintage event furnishings.
The sixth-place finalist, taking home $1,500, was Emile Hughes with Ride Resorts Benefit. His company uses North Alabama's natural surroundings to build challenging trails for thrilling mountain bike ventures.
And taking seventh and eighth place respectively, winning $1,000 each, were Courtney Greene with Greene Books, a mobile and pop-up library concept, and InTerra LLC whose SmarTarget GPS system uses drone photogrammetry to create topographic land models for surveyors.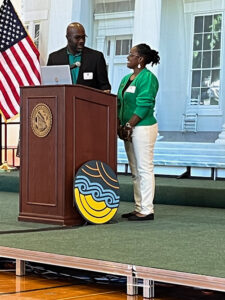 Mike and Meeka Fellows of Madison won last year's  competition for Selah Acres RV Park. Their message was an inspiring one.
"For those of you who have an idea, who have a dream, don't give up on it," said Mike Fellows. "That fire is in you for a reason."
Meeka said, "When you are feeling like it has been a bad day and you don't have as many customers as you thought you would have  – don't give up.
"It rained on the trail and things didn't go the way you wanted; the printer got something wrong on the new brochures but you make the best of what you have and …" To which the audience added: "Don't give up!"
Emcee Pammie Jammar, president of the Athens-Limestone Chamber of Commerce, said the judges wanted all the competitors to know the final decisions were difficult.
"You all are winners," said Jammar. "Congratulations to all of you."