MADISON — "Andiamo saza!" It was a common refrain spoken by Chef Joe DiMaggio Jr.'s grandfather meaning, "Let's go get a slice!"
The reference, and therefore the name 'SaZa' will soon be coming from everyone once the highly anticipated Italian restaurant opens soon in Town Madison.
The budding chef – not the son of the baseball Hall of Famer but related – grew up six months a year in Italy and six months a year in New York until he was 17. Then, his journey led him to open SaZa in Montgomery, 14 years ago.
"Our menu is not normal compared to anything you've ever had," DiMaggio said. "It's a whole different flavor profile. You've never had anything like it!"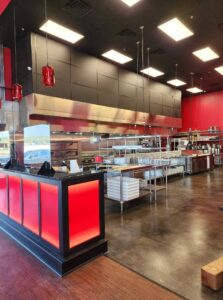 "Extreme peasant Italian" is how he describes SaZa Serious Italian! cuisine.
"Italian food is minimalist, not an abundance of ingredients in a dish," DiMaggio said. "The peasant connotation of the food is simplicity. So, simple ingredients to create as much flavor as possible."
DiMaggio recalls both of his grandmothers in Italy: "One in Lake Cuomo, northern Italian, where it's a love of minimalist peasant food, and one in the southern portion where it's a little heavier – but both simple."
SaZa Serious Italian! in Montgomery is famed for its rigatoni Bolognese made with a rich meat, vegetable and cognac sauce roasted for five hours, as well as the bestseller – the chopped lobster, shrimp and spinach over angel hair pasta dish.
In addition to bringing the original location's favorites to Town Madison, SaZa announced the Madison location would be getting its own signature dish – a 10-layer eggplant dish built like a lasagna and features their own traditional, secret-recipe marinara sauce.
DiMaggio credits authentic ingredients for SaZa's success.
"I make sure we get the real ingredients that you couldn't get in Alabama, before," said DiMaggio. "And the community embraced us."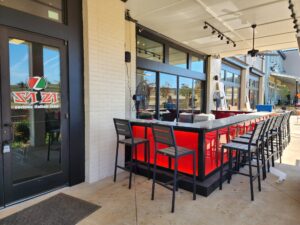 SaZa's second location had originally planned to open in late summer but supplier delays caused the date to be pushed back.
"We are opening the end of October," he said.
Just across the street from Toyota Field, SaZa features an outdoor bar, outdoor dining, a mezzanine with an upstairs bar, and an open kitchen.
The chef and restaurateur is looking forward bringing "real, authentic" Italian food to the community.
"I've found the people here are dying for something real," DiMaggio said. "Everyone is more aware of their food and authenticity and character.
"I want Madison and North Alabama to experience that."