HUNTSVILLE – When Toyota opened its engine manufacturing plant in Huntsville two decades ago, there wasn't a rush of others following. But they did eventually come.
Now, the city can add "manufacturing hub" to its roster of attributes.
That's what's happened since the Japan-based auto giant came to the state in the form of Toyota Motor Manufacturing Alabama. While a manufacturing mad dash didn't ensue, the 2003 plant opening no doubt was the tip of the spear that has seen North Alabama punch deep into that industry.
Honda and Mercedes Benz preceded Toyota as the first to move into what was once billed the Heart of Dixie.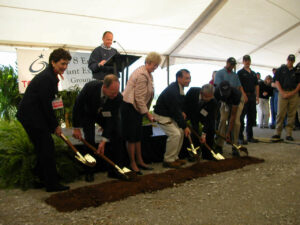 "That was huge," said Daniel Wilson, a local attorney at Butler Snow who in the early 2000s was with Balch & Bingham working on negotiations for the project. "They've had a huge impact."
When Toyota was real estate shopping for a site to build its first plant outside of Japan, the choices came to Huntsville and a site just to the north in the Volunteer State. Toyota chose to come to the Tennessee Valley and an announcement was made in 2021.
"It came down to Alabama vs. Tennessee," Wilson said. "It was the first major manufacturing opportunity the city had. So there was a lot of excitement about the project.
"It was fascinating."
Wilson said he was impressed with how the Japanese did business. Within the organization, for instance, all employees at company headquarters in Kentucky had an open invitation to any meeting regardless of position. Higher ranking managers sat in cubicles among newer hires.
Toyota had plenty of bargaining leverage since its investment was coveted, but Wilson said
management showed "great restraint'' and only asked for one more dollar than the last car
maker received upon moving to Alabama.
"They don't get enough credit for that," he said.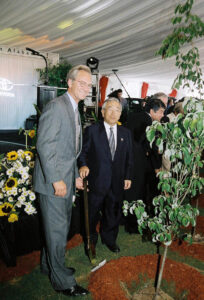 Attorney Leslie Sharpe, also of Butler Snow and formerly with Balch & Bingham, remembers that time as well. It was one of the first projects she worked on as a lawyer.
"That was a big event for Huntsville," she said. "It was great starting out with that project. There were a lot of cool issues and working on phase after phase of expansion."
Sharpe added that Toyota choosing Huntsville and the current boom are the result of long-range planning.
"We're seeing the benefits of a very pro-business local leadership, Chamber of Commerce,
Industrial Development Board – they're focused on growth in Huntsville," she said. "I think
they're mindful of issues and they're strategic about it, but it's a very pro business community. I think that the city has been very savvy in making sure we have a diverse economy here.
"We have the (Redstone) Arsenal, we have aerospace and defense and you know for a lot of places that would be great. But, they also make sure we keep looking at manufacturing. It's been a long process of good leadership in Huntsville."
Companies such as Polaris have built plants in the area since Toyota arrived.
"It opened the door for business," Wilson said.
Meanwhile, Toyota has continued to play a large role in the fortunes of the region, partnering with another car maker to build the Mazda Toyota Manufacturing USA plant, which opened on Greenbrier Parkway in 2001.
Toyota Alabama continues to have a significant impact in the area: employment numbers
continue to rise; the plant has seen eight major investments, including six building
expansions that represent a $1.5 billion investment; donated more than $13.5 million to the local community; and team members serve on local nonprofit boards and have volunteered more than 30,000 hours in the community.
"We want to make the world around us a better place by sharing our resources and ideas in
in addition to our dollars," said Jason Puckett, president of TMMAL. "That's why we look for
opportunities to share our know-how and expertise through volunteerism, board service and cross-sector collaboration.
"At Toyota, we strive to not only push the boundaries of what is possible in manufacturing, but we also want to be an agent of change in our local community. That's why we have invested nearly $13.5 million into Huntsville community non-profit organizations."
Wilson said, beginning in 2001, Toyota negotiators and management brought a business
philosophy of "improving life" instead of focusing only on making money. That stuck with him.
"It's an incredible culture, just a different culture," he said. "Great people. It changed Huntsville for the better."