DECATUR — United Launch Alliance (ULA), which already has the world's largest rocket plant here in Morgan County, is expanding its operations even more.
ULA held a ground-breaking ceremony Thursday for a warehouse and an additional factory facility just outside Decatur. The buildings will support ULA's contract with Amazon for Project Kuiper, a broadband connectivity effort aimed at providing high-speed internet services to underserved areas around the world.
Beyond Gravity, a major supplier to ULA, will provide 38 payload fairings for the Vulcan rocket which will be utilized for the project.
The $300 million investment will result in the creation of 200 jobs.
ULA President and CEO Tory Bruno thanked the community for its support of the company's operations.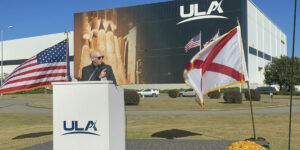 "We're now back investing again in this community and this factory another $300 million into this place, that's the start of it over there in that beautiful Alabama red clay," said Bruno, while pointing to the facility's construction site. "This is going to take us to more than two times our current launch rate, and it's going to bring hundreds of jobs right here to Alabama, which is even more important than all the money we'll spend."
Calling Vulcan "a very special rocket," Bruno said it had the "flexibility" to perform the "highest energy missions our country needs." The rocket, he said, also held the capability of being "competitive" in commercial space.
"I just want to thank this community for welcoming us here, making us feel that this is our home for all these many decades we've been here," said Bruno. "I would not build this rocket anywhere else.
"We are in Alabama to stay."
Beyond Gravity CEO Andre Wall, a native of Germany who was born in the American sector of West Berlin during the Cold War, said he felt "special emotions" in attending ULA's ground-breaking ceremony.
"There are some special emotions from my side being here, giving something back and contributing a small part to sustainable growth in the United States," said Wall. "More important, to contribute to one of the strongest partnerships I've ever experienced in my business career."
Dylan Smith is the editor of Yellowhammer News. You can follow him on Twitter @DylanSmithAL