The 2022 Panoply Arts Festival returns to Big Spring Park April 29-30 and May 1 to celebrate 40 years of arts, music and family fun with not only its first full agenda in three years but with an expanded program and footprint.
Huntsville Mayor Tommy Battle joined Allison Dillon-Jauken, executive director of Arts Huntsville at the Huntsville/Madison County Convention & Visitors Bureau this morning to formally announce the three-day festival agenda.
Presented this year by Mazda Toyota Manufacturing, it will be the first full-scale Panoply event in downtown Huntsville's Big Spring Park since 2019 due to COVID-19.
One of the highlights of the event was the unveiling of the 2022 Panoply artwork commissioned this year by Huntsville's own Sonya Clemons "The Artlady."
"To celebrate the 40th Panoply Arts Festival, we selected an area artist who grew up with the event and whose artwork could celebrate Panoply's community history and its place in Huntsville today," said Dillon-Jauken. "Artlady Sonya's celebration of Panoply showcases the festival's iconic setting in Big Spring Park and celebrates the art, music, food and fun that festivalgoers of all ages have experienced at Panoply for four decades."
The beloved Panoply 40th celebration kicks off at 5 p.m. on Friday, April 29 and showcases many local and regional musical acts, including regionally celebrated and critically acclaimed bands and musicians, the juried Art Marketplace, STEAM Street, art and STEAM interactives, community art projects, craft beer and wine, festival food, select local food trucks and more.
This year, the festival will feature a new expanded layout spanning across Church Street and into Big Spring Park East.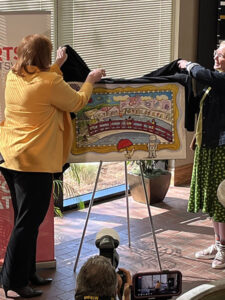 Panoply will welcome over 30 musical performances in a variety of genres from jazz, rock and R&B to indie rock, blues and pop on two Panoply stages: the Showcase Stage, presented by Pepsi, and the Indie Stage.
Panoply's Indie Stage has a new location in Big Spring Park East and will showcase local solo and duo music performances throughout the weekend by favorites such as Delaney Faulds, Shelly Williams, Josh Allison, Jerome Villarreal, Charles and Tanya, Jimmy Henderson, Remy Neal and Cheryl Llewellyn and many more.
The Pepsi Showcase Stage, located behind the Huntsville Museum of Art, will feature multiple bands and shows during the three-day festival.
Friday night will feature a rock-packed evening starting with blues-influenced rock band Tres Locos, followed by indie rock band Jayne & the Huntsmen. They will open for Decatur, Georgia's Hero the Band as the headliner.
On Saturday, the music starts when the gates open at 10 a.m. with Rule of Thirds, Knightshade, Shane Davis, Grove Yard and Will River throughout the day.
That evening, the stage will be filled with big sound and big horns with local powerhouse band Element XI followed by the headliner, The Suffers out of Houston, Texas.
Sunday celebrates a day of Alabama Music, presented by The Orion Amphitheater. Artists such as TGTG, followed by Moon Tree out of Muscle Shoals and local, past-Panoply contest winner Alex Banks & Co. and soulful Huntsville singer-songwriter Lana White.
Closing out the festival is Huntsville's own Paul McDonald on the Pepsi Showcase Stage.
New to Panoply this year is the Art OutLoud Stage, which will be formally dedicated on Saturday from 3:30 until 4 p.m. in honor and memory of local poet and author Carey Link.
Art Outloud will provide an outlet for spoken word performances from local literary figures, poets, authors and comedians.
All of Panoply's favorites are returning including the juried Art Marketplace; the Student Art Tent; First Baptist Church; the Panoply Face Painting Tent; and Panoply's Arts in Action tents for regional artists.
Other events include hands-on activities like Panoply's STEAM Street; Huntsville City Schools Magnet Program's Rockin Rockets!; Huntsville Ballet's Twirling Tops; the North Alabama Arts Education Collaborative's Fresh Beats; Fantasy Playhouse's Nutrition with Nick Nutrition and His Wonder Dog Fiber; Creativity Corner; and the Huntsville Symphony Orchestra Guilds Instrument Petting Zoo.
The Panoply tradition of Military Salute Night continues Friday, April 29 with all active-duty military and armed forces reserves getting into the park for free.
And who can forget the Panoply Beer, Wine and Festival Food with 13 food trucks and the Craft Beer Tent?
It all ends in a spray of fireworks.
"There is no inflation here," said Dillon-Jauken in conclusion. "Arts Huntsville is once again offering a three-day Panoply weekend pass available online in advance for $18 and tickets are available to purchase now!"
Day passes are $10 and children 12 and under get in free.
Also, a playlist of this year's Panoply Arts Festival musicians will be available for download closer to festival date.
Panoply 2022 times are Friday, April 29, from 5 until 9 p.m.; Saturday, April 30, from 10 a.m. to 9 p.m.; and Sunday, May 1, from 11 a.m. until 6 p.m.
Visit artshuntsville.org to purchase tickets, download the playlist and to volunteer.