HUNTSVILLE – As Huntsville's arts scene continues to grow, a local nonprofit found a creative way to honor the community and draw attention to its side of town.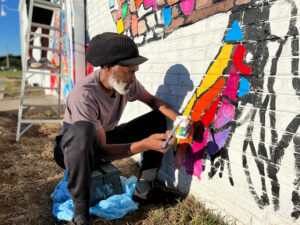 Habitat for Humanity of the River Valley commissioned visual artist Bert Corbin to paint a 205-foot wide mural on its headquarters near downtown.
"We had seen murals being done downtown and felt this was a great opportunity to do something special," said executive director Jeremy Foulks. "The mural started as a large unused space along Washington Street. It was not attractive nor was it bringing life to our facility."
Foulks said Corbin brought the organization's vision for the mural to life. It is a blend of five scenes commemorating Huntsville's charm and the impact Habitat for Humanity has had in the community.
Scene 1 – Ditto Landing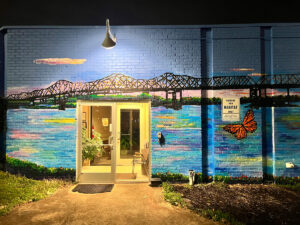 The mural begins with the landscape of Ditto Landing.
"The organization wanted to focus on local treasures," said Corbin. "The natural beauty that we enjoy was a big part of the inspiration for this piece."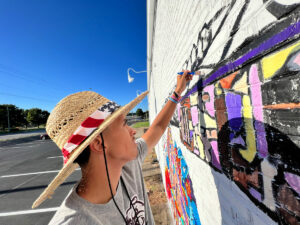 Corbin said his painting assistant – Trevor Berkemeyer – was responsible for all the vibrant color combinations in the mural.
Scene 2 – The Planter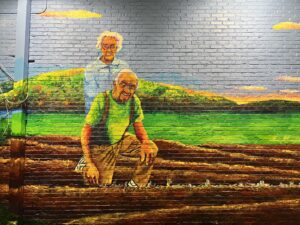 Habitat for Humanity is a faith-based organization that provides affordable housing.
The mural depicts Bill Giardini, a longtime volunteer nicknamed "Mr. Habitat," planting a seed in the ground. The seed pops out of the ground as confetti to symbolize all the activities and home construction projects happening at Habitat.
Scene 3 – The Builders
The confetti transitions into the home building scene. Here, construction workers build new homes for qualified families in Habitat's program. The homeowners build "sweat equity" by completing 55 hours of free homeownership and financial literacy education.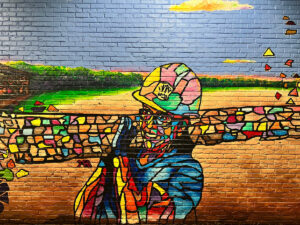 Scene 4 – Home Sweet Home
The mural shows families celebrating move-in day at their new homes, where the interest is 0% on a 30-year mortgage.
"Safe and affordable homes provide a stable environment for children where they can focus on their education and being a kid," said Foulks.
Scene 5 – Huntsville's Future
Though the mural intentionally paints a story of community service, Corbin leaves space for visitors to think about their futures and the stories they will one day share with others.
The artist portrays children building Huntsville's skyline because he wants to see young people get involved and help others.
"If you look at it carefully," said Corbin, "it's a view of Big Spring Park. The children are the future.
"Huntsville is such a wonderful city and it's growing so quickly."