HUNTSVILLE – Land beside the refurbished Joe Davis Stadium won't be empty much longer.
A mixed-use facility called Stadium Commons just outside the stadium was approved by the Huntsville City Council at its regular meeting Thursday night. The project, on land the city owns and was considered surplus, will include a hotel.
"That'll be right there beside the stadium, which will be a great addition to that area," Council President David Little told 256 Today. "If you think about folks traveling to town, whether it's cross country meets, sand volleyball, soccer or anything else that could happen out there, they'll have places to stay that are walkable to the venue."
The agreement includes a dual Hilton Hotel that is part of a $145 million development. The two hotels will have 200 combined rooms that will overlook the stadium.
"It'll be a really nice edition and the city has in place mechanisms to kind of hold their feet to the fire, so to speak, that the design is proper, is aesthetically pleasing, because it's gonna be overlooking the field," Little said. "I think the way the agreement is written is once it's started, they have 12 months.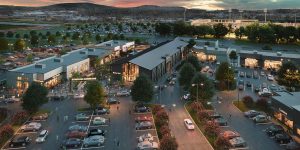 "It has to be completed by March of '26. So, you know, that'll be here before we know it."
In another vote, the council approved money for an opioid settlement. Last year, Walmart agreed to pay more than $44 million to town, city and county governments in Alabama following a lawsuit against the retail giant. Huntsville was among 270 municipalities receiving money.
"The plan of action is to work on education, rehabilitation, and again we want to make sure we have good places for people to be able to live and quality of life," said City Councilman Bill Kling. "Hopefully these things can serve as a deterrent to getting involved with opioids."