HUNTSVILLE — Huntsville-based Hometown Lenders on Thursday held its annual "Back the Blue" event at Toyota Field recognizing law enforcement with Alabama Attorney General Steve Marshall serving as keynote speaker.
Hometown Lenders CEO Billy Taylor welcomed attendees and thanked present police officers for their service and dedication to keeping their communities safe.
Hometown Lenders CEO Billy Taylor kicks off the Huntsville-based company's annual Back the Blue event honoring law enforcement. pic.twitter.com/owzc678oRc

— Dylan Smith (@DylanSmithAL) August 26, 2021
Taylor announced the rollout of the mortgage company's FREEDOM loan catered toward responders who play an active role in protecting local communities, for which he said the company does not charge in-house origination fees.
The company's CEO then introduced Marshall to deliver the keynote address.
The state's top law enforcement officer declared that the citizenry must play an active role in supporting the men and women of law enforcement given the severity of attacks against them around the country. Marshall issued a challenge to communities asking them to figuratively channel the spirit of Rocky Balboa in the fictional "Rocky III," when the boxer continuously took punch after punch until eventually delivering the knockout blow to claim his heavyweight title.
"Maybe it's time that many in our community get a little bit mad," said Marshall. He went on to tell the biblical account of Jesus' "Cleansing of the Temple."
"Or maybe using a little different analogy, of Jesus being in the temple where he turns over the tables of the merchants – maybe it's time we had a little righteous anger about protecting those who protect us and those that are here tonight," stated Marshall.
"[W]e see the highest violent crime rates that our country's ever seen," Marshall said pointing to metropolitan cities such as Seattle, New York and Chicago.
"Frankly, we're in a sweet spot here," he added referring to Huntsville. "[B]ut you look at Birmingham, you look at Montgomery – Alabama is not immune. And ya'll, the reality is that we lost 200 of America's finest in this calendar year of our law enforcement officers, including three here in Alabama."
He continued, "One of the things we need desperately are the community members to get a little mad and say that 'we're not going to tolerate that anymore' and to be able to do it in a way that they embrace law enforcement in their communities – to be able to say the physical presence of law enforcement here is something that we want, because the reality is that those who argue against you somehow or another believe that your funding ought to be decreased are hurting the very communities that they claim to protect."
"So, my hope is that there are many others who continue to recognize the value of the work that you do," said Marshall.
Upon Marshall going on to conclude his address, as a token of their appreciation, Hometown Lenders presented law enforcement officers with official recognition which honored the service of local police.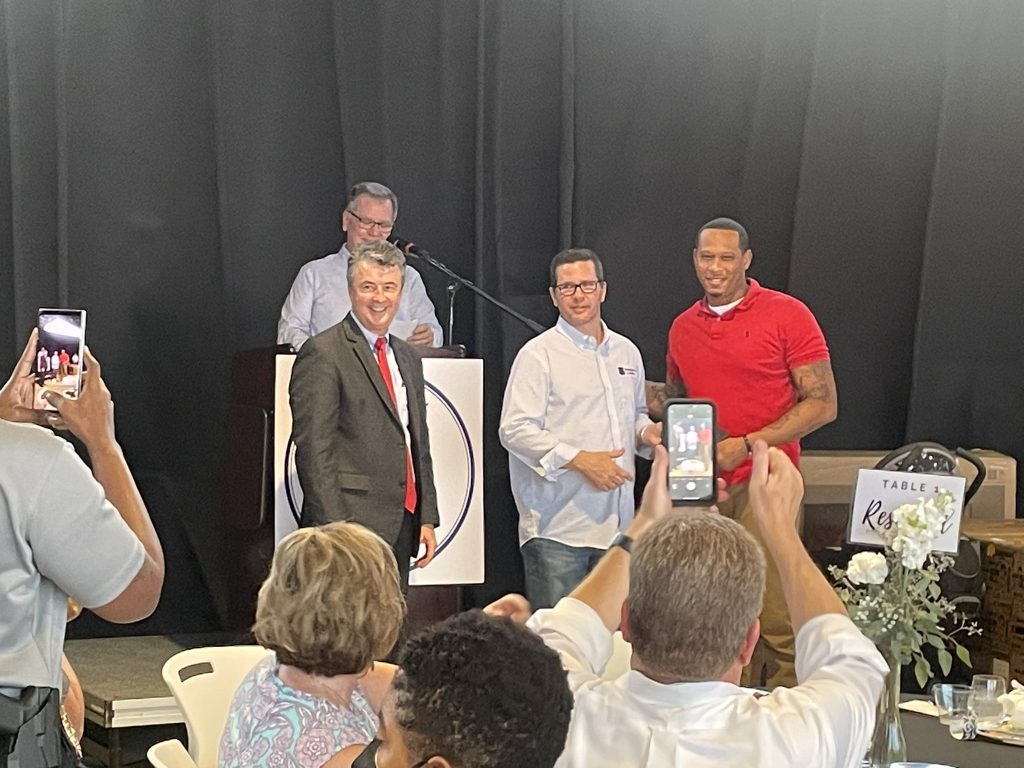 Dylan Smith is a staff writer for Yellowhammer News. You can follow him on Twitter @DylanSmithAL