SHEFFIELD – On land that once belonged to a government initiative started by President Franklin D. Roosevelt, one which brought prosperity and recognition to the Shoals, a local bank that progressed in lockstep with the project is taking one of the biggest leaps in its 76-year history.
Bank Independent held a groundbreaking Wednesday for its new operations center, a four-story picturesque building on 50 acres once owned by the Tennessee Valley Authority.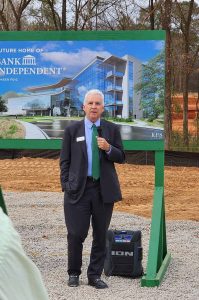 Bank Independent representatives and other luminaries gathered on what has been barren woodland near Hatch Boulevard and off Reservation Road to celebrate among the remaining trees that haven't been felled, a several stories high pile of dirt, bulldozers humming in the viewable distance and a drone buzzing overhead taking pictures.
President Macke Mauldin, a third generation member of the bank's founding family, told a story to start the ceremony on a cool, gray midweek afternoon near the big river that starts in the Volunteer State and winds down through Alabama.
Mauldin related how Dr. Roy Stevens, director emeritus of Bank Independence and a driving force behind the birth of UNA athletics, was a combat pilot in World War II and was part of a squadron dropping bombs on entrenched Japanese soldiers at Iwo Jima.
"I tell the story every chance I get, because it's such an amazing part of American history,'' Mauldin said. "When they were trying to bomb the island, the Japanese were in the caves on the side of the cliff, and (the bombs) weren't falling in the right spot.
"So he and his team would fly and circle in an arc and drop the bombs, and they would fly into the side of the mountain. And think about that. Today, we would send drones. At that time, we were sending Roy."
The gathered crowd laughed, but the tale is symbolic of the bank itself – it began with a mission and vision, and neither have changed in over seven decades.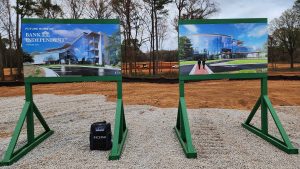 Mauldin's story segued into the event's ultimate purpose. The ceremony was not just a  celebration of how far Bank Independent has come, but also of the Shoals and surrounding Tennessee Valley community.
"This property is, really, the history of the Shoals area," Mauldin said.
Bank Independent provides a large chapter of that history.
"We have 700 team members that have made this possible and maybe perhaps tens of thousands of team members over the past 76 years that made this possible," Mauldin told 256 Today. "We stand on their shoulders, through the hard work that they've done all these years. I'm such a small part, it's such a big thing and I'm really proud to be here at this time.
"Our goal is to make a positive difference every day in people's lives. It's just a great time for a community bank."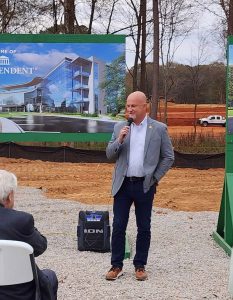 Among those in attendance were Bank Independent's Fennell and Preuit Mauldin, brothers of Macke, and other family members; former U.S. Rep. and bank board member Ronnie Flippo; bank CEO and CFO Rick Wardlaw and Vice President Don Miller; Muscle Shoals Mayor Mike Lockhart; state representatives; council members; and other movers and shakers in the Shoals community.
"The honorable men and women I serve with (in Montgomery) are getting tired of hearing me talk about how great this community is," said State Rep. Kerry "Bubba'' Underwood. "But it is great and it's a worthy thing to talk about. And so I do. And there's several things that make us great here.
"We have lots to offer in our environment, our natural assets, lots of things, but the best thing of it all is you, the ones who live here."
Wardlaw, reminding everyone that the bank's motto is "Built to serve, not to sell," opened the ceremony by offering details of the new building.
"The facility will include training rooms, medical response area, wellness rooms, hoteling offices, testing rooms, employee cafe and private dining and kitchen, a fitness center and a bank museum," he said.
Before Roosevelt decided to make the Shoals headquarters for TVA, automotive pioneer Henry Ford and then-President Woodrow Wilson toured the area in 1923. Bank Independent was founded by a group of farmers, that included Edward Mauldin, at an office as the Bank of Leighton in 1947.
"Wilson dam was being completed," Macke Mauldin said about the Ford-Wilson visit. "They envisioned all this property, a city that would span 75 miles to the east and would be a magical world class city that would provide economic development for the Valley."
That vision was realized with the help of Bank Independent, which was named No. 33 in the latest Newsweek ranking of the Top 100 Most Loved Places to Work nationwide in 2022.
"We're truly excited to see this building come to life and really be able to serve our team members as we live out our mission and vision each day," Bank Chief People Officer Penny Camp said. "We believe this building will help us do just that."