HUNTSVILLE – Two local artists are adding something unique to the local art scene with what they're calling The Unfolding at Stovehouse's campus on Governors Drive.
The two-day show starts Nov. 4, at the The Vessel Studio and will mark the opening of what collaborators Charlotte Marie Isbell and Jordyn Brummett say will be a new, fine art collection that will add "something fresh to the Huntsville-Madison art scene by bringing a cultivated fine art experience into an accessible light."
Isbell is an Australian expressionist painter and Brummett, who co-founded The Vessel, is a ceramic artist. According to a news release, the pair will introduce their four-month long team effort of large oil paintings and hand-thrown ceramic vessels from a shared concept and narrative.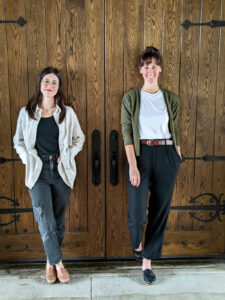 "The Unfolding invites deep contemplation on the journey, impact and gifts of self discovery," Brummett said. "It feels right to have this collection shown outside of a gallery context and within a studio setting where people feel closer to the making process."
Isbell moved here with her Alabama-born husband in 2021.
"Sometimes it can feel like art has been shuffled into two places: commoditized or the inaccessible," Isbell said. "So much so that it's easy to forget that art can be stylish whilst deeply meaningful and moving. These intentions have certainly shaped not only the art within The Unfolding collection, but our decisions around how we're bringing it into the community – a little bit of a creatively rebellious celebration of fine art."
The Unfolding is free to attend, and both artists will speak at 6:30 p.m. Most pieces will be available for purchase.
The Vessel is a community ceramics studio and retail shop that also offers workshops and  classes. For information, visit www.thevesselstudio.org.